Residential
Howard Street
Huntington Road
4 Bedroom Houses
3 Bedroom Houses
Vacation House
Homer Street
Institutional
Weymouth MRI
Commercial
Weston Hotel
335 East 27
Development Concepts
Jeddah C C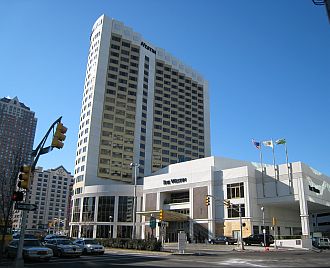 When the construction documents for the Weston Hotel on the New Jersey waterfront were resumed after a several year hiatus, John, as an architect associated with William Tabler Architects, was responsible for the redesign and detailing of building elements including the main entrance, the lobby and the exterior skin.
During construction, he joined the LaFrak Organization construction team and assisted the developer / builder in the redesign and management of systems including a monumental atrium stair, finish metal work, millwork , lobby LED light towers, built-in furniture, ballroom and lobby chandeliers, and the redesign of elements due to program changes and job conditions.
The project is an example of John's ability to work as an effective contributing member of development teams implementing integrated project delivery.