Residential
Howard Street Huntington Road
4 Bedroom Houses
3 Bedroom Houses
Vacation House
HomerStreet
Institutional
Weymouth MRI

Commercial
Weston Hotel
335 East 27

Development Concepts
Jeddah C C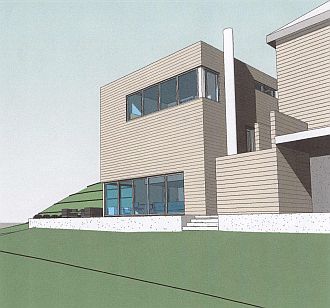 The design proposes a small hillside vacation house overlooking a bay that would be next to, but separate from, an existing house that would provide guest accommodations and spaces for entertaining large groups.
At the lower level new structure has a living area which opens on the south to the water view and on the west to a relatively private terrace beyond which is owner parking.The master bedroom on the third level has the water view and a desirable distant view to the east. The middle level has and library/office and an entrance related to the existing house and to guest parking at he top of the hill. The building is clad in horizontal ceder boards that will weather to match the color of the shingles of existing house. Because of the important view of the house from the top of the hill the roof material is covered with open ceder decking.
The elegant ceder cube is a fitting minimalist companion to the adjacent older structure.