Residential
Howard Street Huntington Road
4 Bedroom Houses
3 Bedroom Houses
Vacation House
Homer Street

Institutional
Weymouth MRI
Commercial
Weston Hotel
335 East 27
Development Concepts
Jeddah C C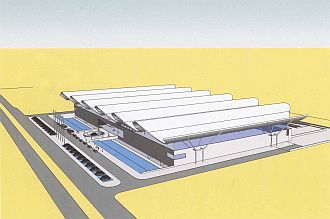 A development concept was created for a client in Jeddah, Saudi Arabia, who is promoting a exhibition and conference center.
At the upper level, the design proposes a large divisible exhibition space below a curving floating roof. The middle level has a reception lobby and a connection to the parking. The lower level provides meeting spaces with lounge and restaurant areas that open onto a pool fed by a continuous water fall.
John has designed other development concepts including, in China, concepts for multiple hospitals and a large hotel and office tower development.